Rescue PLUS is a new line of Rescue Products with a little extra created by Nelson Bach.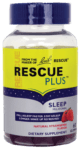 Rescue Plus Sleep Gummy with Melatonin (2.5mg per. gummy)
Fall asleep faster, stay asleep longer, and wake up refreshed.
Strawberry Flavor
– Preferred gummy format – all-natural strawberry flavor
– 2.5mg of clinically proven Melatonin in each gummy
– Each Rescue Plus Sleep Gummy has the same 6 flowers found in RESCUE Sleep products that address repetitive thoughts
– Gentle and nonhabit forming
Directions: Adults chew 1-2 gummies 30 min before bedtime. Not to exceed 4 per day.

Active Ingredients:
5x (HPUS) dilution
Star of Bethlehem – Orithogalum umbellatum
Rock Rose – Helianthemum
Cherry Plum – Prunus cerasifera
Impatiens – Impatiens gladulifera
Clematis – Clematis vitalba
White Chestnut – Aesculus Hippocastanum

Inactive Ingredients: Glucose syrup, sugar, water, pectin, citric acid, sodium citrate, natural flavors, elderberry juice, coconut oil, carnauba wax.
Calories 15
Sugar 3g
Sodium 10mg
Melatonin 2.5mg per Gummy
Made in the USA
Free from gluten, milk, eggs, tree nuts, peanuts, and soy.
Vegan
Keep out of reach of children
Not intended for animals, pregnant or nursing women, or children under age 16.
Do not take while driving operating equipment.
Store tightly closed, in the dark, dry, and cool (Under 80F)
Dietary Supplement
Please also consider our Rescue Sleep Products, they do not contain Melatonin but work anyway for most people including children & pregnant women.
Rescue PLUS Gum – Fresh Mint

Soothe tension and relieve stress on the go with NEW RESCUE PLUS™** Fresh Mint Gum.
Developed to help you smoothly navigate the twists and turns of a busy lifestyle and its consequences, RESCUE PLUS™ Fresh Mint Gum with L-Theanine and Vitamin B5 helps you stress less and stay in control.
One serving of gum contains 70mg of L-Theanine and 240% RDA of Vitamin B5, with the same five flowers found in RESCUE® products, all in a fresh, natural flavor blend of spearmint, peppermint, and menthol.
Keep this convenient 25-pack close at hand whether you're at home, at work, or traveling on the go.
Adults chew 2 pieces of natural chicle-base gum for 30 minutes twice daily.
RESCUE PLUS™ gum is a dietary supplement. A varied, balanced diet and a healthy lifestyle are important.
Dietary Supplement
With L-Theanine & Vitamin B5
Biodegradable Chicle Gum
No titanium-dioxide
Natural mint flavors
No artificial colors
Aspartame free
Gluten-free
Directions
Adults chew 1-2 pieces for 30 minutes 2-4 times daily.
Supplement Facts
Serving Size: 2 Pieces
Servings Per Container: 12
 
 
Amount Per Serving
 
% Daily Value
Calories
 
8
 
 
Total Carbohydrate
 
2 g
 
1%†
Total Sugars
 
2 g
 
†
Included 2 g Added Sugars
 
 
 
4%†
Pantothenic Acid (Vitamin B5)
 
12 mg
 
240%
 
L-Theanine
 
70 mg
 
††
 
† Percent Daily Values (DV) are based on a 2,000-calorie diet.
†† Daily Value not established.
Other Ingredients
Cane sugar, chicle gum base (natural chicle tree sap, candelilla wax, citric acid), agave syrup, natural flavors (including spearmint oil, peppermint oil, menthol), maltodextrin, gum arabic, magnesium stearate, sunflower lecithin, glycerin, carnauba wax, tocopherols (maintains freshness), grape brandy, RESCUE® Natural Flower Essence. May contain traces of Soy.
Storage: Store at room temperature.
Warnings
As with all dietary supplements, consult your healthcare professional before use.
KEEP OUT OF REACH OF CHILDREN.
****** Note that these products are not for animals and children due to the added products.
******If pregnant or nursing please consult your health care practitioner before using