Rescue Pearls
(Alcohol-Free)

BUY NOW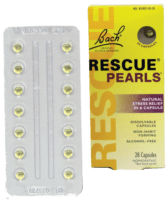 Rescue Pearls is a small capsule that you place on your tongue and let it melt when your need the stress relief that Rescue Remedy provides. The fast-dissolving capsule quickly releases 4 drops of Rescue Remedy to help you enjoy a stress-free day.
Star of Bethlehem: For trauma and shock.
Clematis: For the tendency to "pass out", and unconsciousness, being far away and not present mentally.
Cherry Plum: Fear of mind giving way, verge of breakdown, anger, temper tantrum.
Impatiens: For irritability, tension, and fidgety.
Rock Rose: For frozen terror and panic.
Ingredients:
5x (HPUS) dilution Star of Bethlehem – Orithogalum umbellatum Rock Rose – Helianthemum Cherry Plum – Prunus cerasifera Impatiens – Impatiens gladulifera Clematis – Aesculus Hippocastanum
Alcohol-free, Rescue Pearls are suitable for all the family to use.
Inactive Ingredients:
Carnuba wax, Coconut Oil, Grapeseed Oil, Capsule shell (
fish sourced Tilapia
gelatin), natural flavoring (orange oil and vanilla), pectin, bulking agent (sorbitol).
Made in Japan
Gluten & Dairy Free